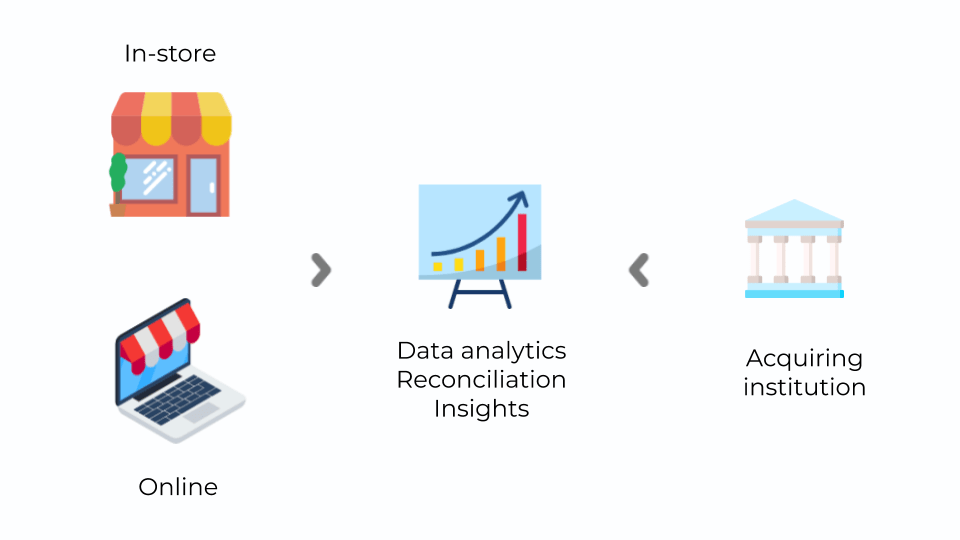 The HiPay Enterprise platform is your partner for the unified commerce, centralizing all your payments in one interface. Allowing you to process payments from your website as well as on in-store payment terminals, through one single platform.
The three pillars of all our POS offers are:
Delightful Customer Experience: a secured in-store payment processing, queue boosting thanks to the tablet integration, cross channel refund for all our HiPay Gateway offerings, and much more.

Great Unified Commerce Insights: you will be able to easily identify trends between your stores, at the same time that you get a better understanding of the online and in store customer behavior.

Easy to Integrate & Maintain: we are also developers, so we understand the importance of simple and stable applications.
All of this, in combination with our acquirer integration to get an end-to-end view over your transactions' lifecycle –including reconciliation. 
To get a better understanding of HiPay's omnichannel solutions, we recommend you to visit the dedicated pages on our corporate website.
For more information about processing e-commerce transactions, please check our online payments documentation.
Point of Sale Solutions
Charging your customers and managing transactions on physical payment terminals follow the same workflow as processing e-commerce transactions. In-store transactions are registered as payment transactions in the same platform, with basically the same behavior as e-commerce transactions.
To use HiPay's Point of Sale, you can integrate one of the following  solutions, depending on your in-store payment ecosystem.
Integration & Maintenance
Integration & Maintenance
Integration & Maintenance
* Payment Hub customer experience can be great if you have a system in place that makes the connection between you POS software and the POS Terminal. If it is not the case, the Customer Experience is "Normal".
Provisioning payment terminals
To be able to initialize transactions on payment terminals through HiPay's platform, you need to get provisioned payment terminals from HiPay. Depending on your needs, you can get such terminals in different ways:
Payment terminals configured with the proper HiPay software can be shipped directly from our partners network

Your existing payment terminals can be updated by your fleet maintainer in order to embed the HiPay POS software
Please submit a request on our Support Center to get provisioned payment terminals.